We're a one stop shop: vibrating rabbits, bullets + wands. It's time to take charge of your self love with VUSH's game changing new vibrators. Our sex toys cover all the bases; internal + external stimulation for those looking to spice things up between the sheets.
Frequently Asked Questions
Recent Blog Posts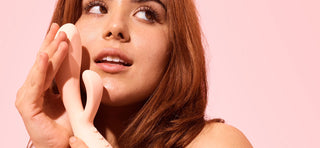 If you're bordering on being sick of hearing about how important self love is without actually sharing how to put that into practice, this article is for you....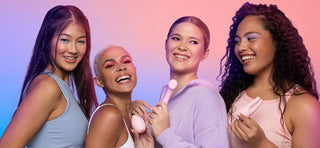 Why should I get a sex toy as a gift for my friend? A vibrator may not be your go-to gift for a friend (but if you're anything like...
Explore Vibrators Online
Finding the right vibrator to buy online has never been easier. At VUSH, we offer a diverse collection of the best-quality vibrators, including everything from pink vibrators, vibrating wands and bullet vibrators. We aim to deliver solutions for everyone seeking a little TLC from their favourite toy and celebrate the different bodies and personalities who use our designs. For those looking for a more modest introduction to the world of sex toys, we provide discreet shipping options so that you can feel confident and at ease with every purchase. 
To learn more about how you can buy a VUSH vibrator, get in touch with us today, and one of our VUSH babes will get back to you as soon as possible with the details. 
The Benefits of Using Vibrators
Designs like rabbit and bullet vibrators can deliver more than just incredible orgasms. There are many physical and mental health benefits to regularly using a sex toy, including reducing stress, increasing productivity, increasing vaginal elasticity, and reducing pain. Alongside the production of feel-good hormones, vibrators can work to boost your sex life by combating sexual anxiety and lifting your self-esteem. 
TYPES OF VIBRATORS
A rabbit vibrator offers dual stimulation. Primarily used to stimulate the clitoris and the g-spot, this design can be used to significant effect. If you are looking for a device that is a level up from your standard vibe, then a rabbit vibrator is the one to try for your next "solo sesh"! Our rabbit vibrator mimics penetrative sex using a "come-hither" motion on the internal arm.
DUAL TIP VIBRATOR
A dual tip vibrator offers a unique design that involves two flexible arms capable of reaching various pleasure spots. With a selection of vibration settings, this toy can provide external stimulation of the entire clitoris - including the areas we can't see! Dual tip vibrators are the perfect toys for pleasuring the entire vulva in stroking motions.
PALM VIBRATOR
Experience pleasure in the palm of your hand with a palm vibrator. Soft and compact, this device offers complete vulva stimulation, capable of reaching a multitude of pleasure points. Don't let its size fool you; this device can pack a punch with varying vibration settings and intensity levels to suit every personal preference. Palm vibrators are a gentle, beginner-friendly option.
G-SPOT VIBRATOR
Ideal for exploration and stimulation, a g-spot vibrator offers a curved design that is great for both clitoral play and vaginal or anal penetration. Combining internal and external features guarantees an enjoyable experience every time, with an easy grip handle and straightforward design for maximum pleasure and g-spot stimulation.   
BULLET VIBRATOR
Simple and effective, the bullet vibrator is a must-have for any sex toy collection. Providing direct, pinpointed stimulation makes these designs great for solo or partnered sex. These vibrators are a strong choice for beginners and pros alike, with intense stimulation, no matter your preferences or fantasies. Bullets are small but powerful, and can be used on virtually any external body part.
VIBRATING WAND
Offering a variety of vibration intensities, the vibrating wand is a popular choice for all bodies. It can be angled to use in several positions to stimulate those hard-to-reach spots. The vibrating wand's broad head and long handle are easily identifiable and provide intense pleasure through powerful vibrations. You can even use your wand for muscle pain relief or as a lactation device! 
CLITORAL VACUUM
Designed to stimulate the area with the greatest density of nerve endings (AKA the clitoris), a clitoral vibrator focuses primarily on this area. While other vibrators often have several functions in one sex toy, a clitoral vacuum vibrator is specifically designed to mimic the sensation of oral sex. They are a classic choice for those new to vibrator experimentation. Clitoral vacuums create a seal on the clitoris and provide wave pulse sensations, rather than the typical direct vibration a wand or bullet would provide.